Choosing Catering vs. Self-Catering Your Event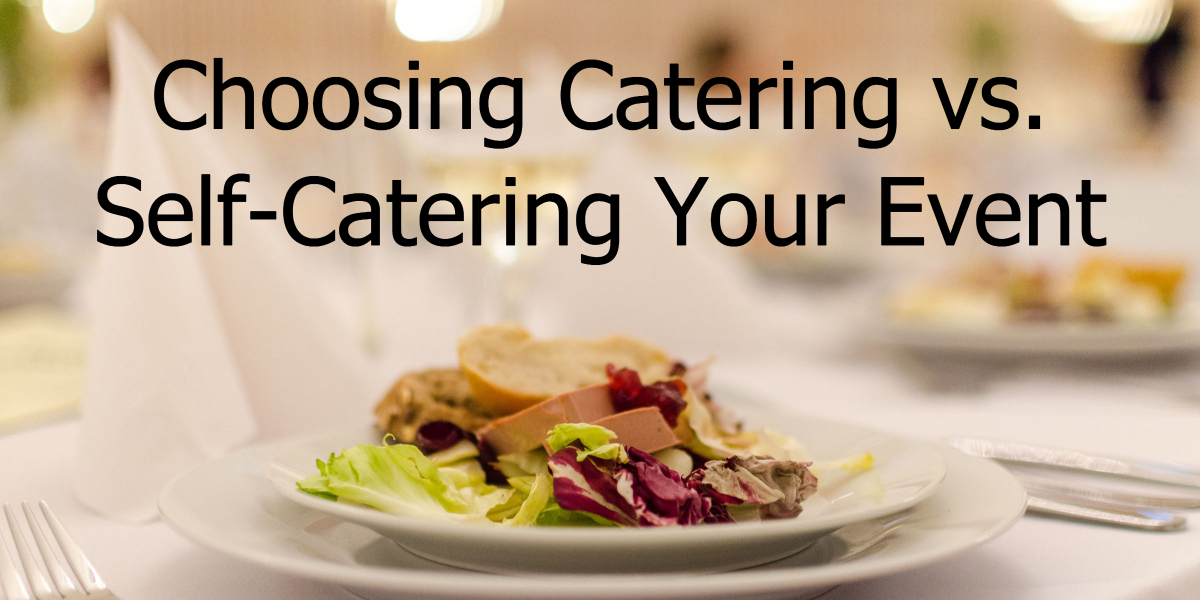 Food has the potential to be the star of any event. People socialize over it, enjoy it, and use it to refuel for the dance floor. For any big event, you'll need a lot of food, and with the trend of DIY parties getting hot, it's tempting to think you can provide that food on your own without the help of a catering service. While in theory this is a great idea, you may want to explore some of the details associated with making that decision.
Cost
Why drag it out? This is every budget-conscious planner's main concern. It certainly is easy to assume that the cost of catering an event versus self-catering the food would be a large difference; you do the work yourself, you save money. In reality, though, that may not always be the case.
You need to take into account not only the cost of food for a large amount of people, but also the cost of supplies. You'll need to purchase serving utensils, dishes, ways to keep the food hot or cold depending on the dish, cups, ice buckets, and even tablecloths and place settings if the event space doesn't provide those. Your "budget" food could cost as much as or more than hiring a catering service.
>>Need help setting a budget for your wedding or special event catering? Start here!>>
Time
You have a lot to do while planning your big event. Depending on the event, you'll be juggling hair and makeup, photography, speakers, a ceremony, and so much more. Do you have time to add in cooking for 50+ people? Remember, you're not just adding extra ingredients to your favorite potluck recipe. You are adding hours of prep time to making that pasta salad.
Labor
This ties in with time; do you feel comfortable spending your time on prepping, cooking, and setting up at the venue? If you don't, do the people you have helping you mind missing out on some of the festivities? For a wedding, this could mean family or friends missing part of the ceremony. For a retirement party, maybe the honoree's best friends won't be able to give a speech. While some people are often more than willing to donate their time to help you save money, is it worth you and them missing out on the best parts of a party?
Space
Often overlooked, space is a major factor in self-catering. Even two refrigerators may not cut it when you're cooking for a massive amount of people. If it's a birthday party, you also need to store the cake! Where will you keep all of the food you've made, and how will you transport it? Make sure to ask these questions before you head off to the grocery store.
Safety
Even more important than cost, you need to consider food safety. Many foods have to be heated to or kept at a specific temperature in order to be safe to consume. Do you have the knowledge and capabilities to adhere to those guidelines? The last thing you want is a situation where your guests are exposed to dangerous food; that would really dampen the party.
Personalized Catering in Frederick, MD, & Beyond
Whether you expect 20 guests at your special event or 200, Celebrations Catering provides exceptional service, delicious food, and personalized menus every single time. We also provide table linens, china & flatware, and rental coordination services to make planning your event even easier. Contact us today for an estimate!

Tags: Catering, party planning, special event planning, wedding planning