Celebrations Catering is proud to have been recognized as a recipient of the 2022 Wedding Wire Couples Choice award for the tenth year in a row. This award is solely based on reviews from newlyweds and their experiences working with us. Award-winning vendors are distinguished as being in the top 5% of wedding professionals for the quality, quantity, consistency and timeliness of the reviews they have received from their past clients.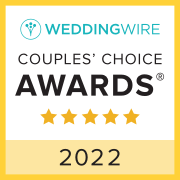 Event Catering Services Frederick, MD
We are often asked what makes us different. The answer is simple…Passion in everything we do. Passion begins with your initial contact with one of our coordinators. Our coordinators will help guide you through the planning process with ease and comfort, assuring that all details are gathered prior to your special day.
The Celebrations culinary team displays passion through the creations they present from the beginning stages of fresh, quality ingredients, to the final presentation with innovative eye catching, palate pleasing products. Our experienced service staff offers the final touch in creating a memorable event for all of your guests. As a team, we aim to consistently raise our bar of excellence, and look forward to being a part of your journey as you plan your special event!