Our 10 Favorite Wedding Themes on Pinterest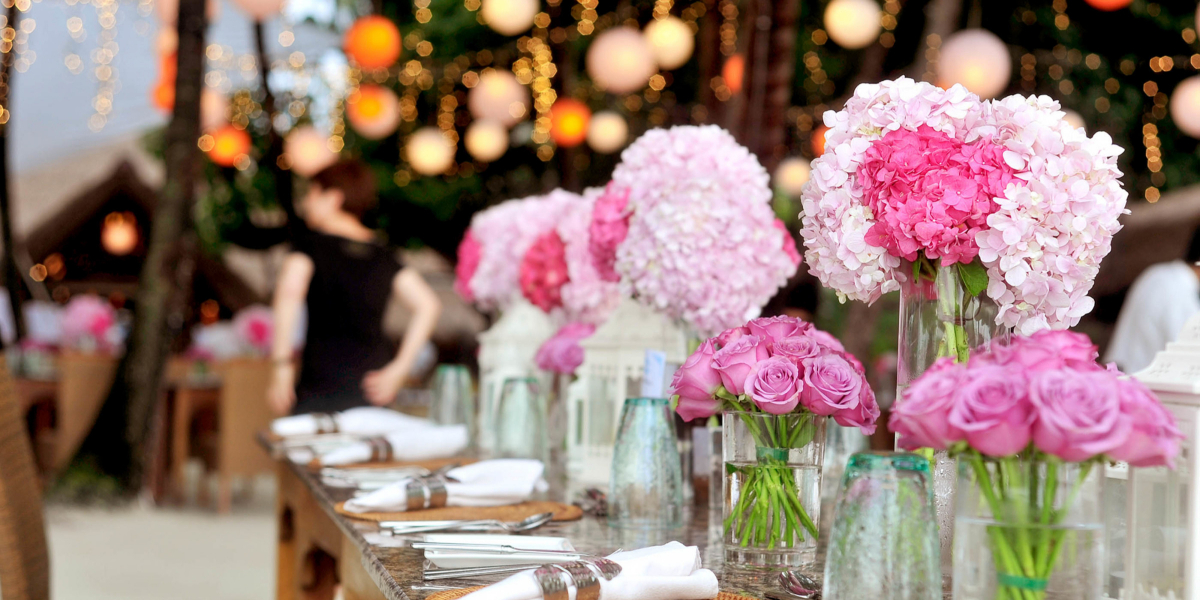 We love weddings, and at Celebrations Catering, we are in a unique position to see lots of them. From the simple ceremony to the elaborate event, we've seen weddings of all shapes, sizes, and themes.
A wedding theme is as unique as the couple hosting the wedding, and one of the best places to find great themes is Pinterest. We've combed through some of the more popular wedding theme pins to find our 10 favorite wedding themes from Pinterest:
Starry Night Theme
We love this theme because it's got rich colors (that deep blue!) and is great for a variety of couples. Whether you like art, astronomy, or just some good old nighttime stargazing, this theme is sure to please!
Disney Pixar's "Up" Theme
One of the greatest – and saddest – love stories ever told on the big screen is thanks to Disney Pixar's smash "Up." All the little details in this wedding theme, from the bowtie to the personalized "Our Adventure Book" has us swooning. Pair this with some great, big balloon bouquets and you've got an adorable, romantic wedding theme to remember!
Enchanted Forest Theme
This theme is perfect for the couple getting married outdoors! With the rich woodsy hues and nature-inspired details, guests will feel transported. To add a bit more whimsy, throw in some fairy gardens and twinkle lights and you're all set!
Retro Diner Theme
We have to admit, this wedding theme looks like so much fun! What better way to bring out your love for all things retro, including poodle skirts and milkshakes, than with a 50s diner themed wedding? This theme would be great for a casual wedding or one with a couple that wants a non-traditional dessert option.
Winter Wonderland Theme
Getting married in winter? Embrace the season by creating your own winter wonderland! Shades of white, crystals, and sparkling candlelight combine to make a magical night you and your guests are sure to remember!
Roaring 20's Theme
Get your guests in a true mood to dance with a 1920's themed wedding! Break out the rich hues, Art Deco fonts, and lots and lots of fringe for a wedding to remember. Bonus: Your guests will truly feel they're in an exclusive club if you make things feel like a Speakeasy!
Lace & Pearls Theme
Offset all those rustic details from your outdoor wedding – wood, greenery, and burlap – with some sweet lace and delicate pearls. Paired with blush pinks and forest greens, you've got a ready-made vintage romance feel you'll guests will love.
Nautical Theme
Take your love of the sea to the next level with an elegant nautical-themed wedding. Navy blue and white are perfect color palettes to give you a start on this one. You can even bring in some of your favorite beach elements, like sand and starfish, to add a natural touch.
Literary Theme
Calling all bookworms! Gather your favorite books, get inspired by those storybook romances, and host a literary-themed wedding to remember. There are tons of options with this theme, so get to planning!
Mardi Gras Theme
Jewel tones, peacock feathers, and lots of jazzy music will make your reception the party it was always meant to be. We love that this theme can be taken in a whole bunch of different directions and still feel like Mardi Gras!
Personalized Wedding Catering in Maryland
At Celebrations Catering, we want to make sure your wedding is as unique as you are, right down to the menu. We offer a variety of pre-planned menus, or you can work with our team to develop your own. Let your imagination run wild!
Get the wedding catering your party deserves. Call today for a consultation!